Welcome to the wonderful world of author Debbie Bailey
Warning: Content on Debbie Bailey's site is intended for persons who are deemed legally mature by their country of residence: Canada is 18,United States is 18 years old, Japan is 20 years old. For other countries, please refer to the Wiki Age of Majority article. Read/browse responsibly. Thank you.
Welcome to my world...
As a woman over 40 I never thought that I would being embarking on such a fabulous adventure! Writing a good story that people like to read is the best feeling ever (well except for the childbirth thing...) Writing erotic romances would not have been on my list of careers but I have learned that not everything you think you want to do is good for you or that you are even good at it. I'm a good writer. One that LOVES what she does and LOVES to hear from her readers.
Over the next few months I will be adding more content to my website. For now, I can give you a bit of the basics. I have been writing for a very long time but until recently, and with a really good push from a friend, never had the nerve to send one of my books in. I'm so glad I finally screwed up enough courage to do it.
Coming February 2012...For Tia's Pleasure - Men of Kinsey 2
Sienna's Submission - Men of Kinsey 1

AVAILABLE: Now
This title is now available at www.bookstrand.com/sienna-submission
[Ménage Amour: Erotic Contemporary Ménage a Trois Romance, M/F/M, BDSM, spanking, sex toys]
God, the dreams are getting worse and worse every night. I can't stop thinking about them during the day now, either. Maybe if I quit reading those erotic novels Brianna keeps giving me I might be able to get a good night's sleep.
Mikhail and Sasha Dalhousie are every woman's fantasy. Well, at least, every sane woman. Sienna wants to show them there is more to her than what they see at the office. Sasha and Mikhail want their little PA more than anything. But she'd been through a rough marriage, and what they need to give her may be more than she can handle. Once they get her to do them this "favor," they will be able to show her their world. If only they were the only ones who want her…
A Siren Erotic Romance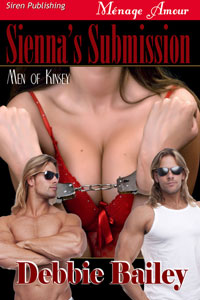 This site is still under construction....
Hopefully this site will be fully functional with the next week or so, please bear with me until then...
Much thanks to all
Deb B.
Here are some links to some really great Authors:
Here is the first review of my book!!!

Loved the book i hope MS Bailey writes fast
My newest review from a reader at Amazon.com
Sienna's Submission, November 4, 2011
Five out of five stars
Amazon Verified Purchase
"I just finished reading this book, and I loved it. The characters, Sienna, Sasha and Mikhail were well developed and the story line was really thought out."
"This book showed the love between the brothers and Sienna, as well it hints to other relationships for future books that I would buy in flash. The story was compelling, the characters were great and you felt as if your were right there with them. And of course the sex was hot! Not too much and not too little along with the spice of BDSM. This is just my opinion and I'm not a professional book reviewer by any means but Ms. Bailey please get other books out there soon!"
Behind the Scenes of My Home Page